Protect the future with WATERGOAT.
WATERGOAT has been preventing trash from entering big waters since 2006. Over 191 Watergoats have been deployed in public waterways. A small percentage of our devices are installed on private/commercial properties. Best collected data (conservative) indicates that the mighty Watergoat fleet has prevented well over 322 tons of debris from ever getting close to the ocean! That name? Goats are known to eat almost anything and everything, most of all, ... trashy trash..
Info
The highly effective WATERGOAT trash barrier is perfect for streams, canals, ponds or lakes.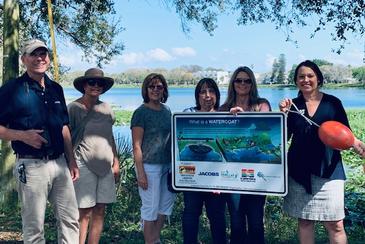 Community & Family
WATERGOAT is for the Community and by the Community. WATERGOAT has proven itself in the harshest environments since 2006. Freshwater/Brackish applications available throughout the United States. WATERGOAT is designed to operate successfully in fast moving, rapidly fluctuating waters, while capturing massive amounts of debris. Keep community waters clean and safe.
Join Now


Features
WATERGOAT knows that a one size fits all idea does not always work. Watergoat has developed features to assist in the implementation and revitalization of community waterways through the use of Watergoats.
WATERGOAT SIZES
We custom make each WATERGOAT to fit your location. Watergoat has a solution to fit.
WATERGOAT PRODUCTS
We have several models and configurations. WATERGOAT Trash Barrier, WATERGOAT Aquatic Plants & WATERGOAT RedTide.
MAINTENANCE
Maintenance is usually performed from the safety of embankments or 'Storm water Headwalls'. The average Watergoat can be cleaned out in less than two hours with three workers.